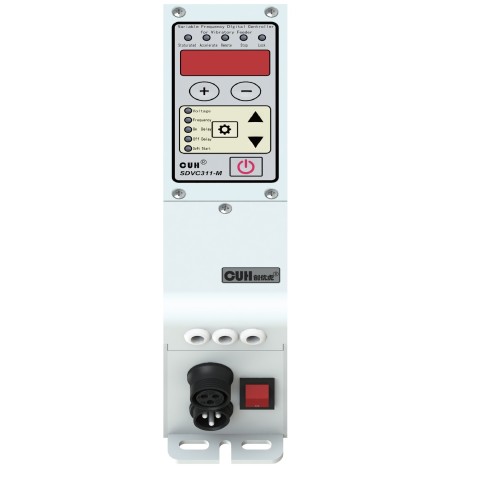 The basic and most commonly used type of controller for vibratory devices.
Controller functions include:
Automatic voltage regulation
Digital protection against overheating
Overcurrent protection
Frequency adjustment
Time adjustable soft start
Remote speed control
Short circuit protection
Photoelectric sensor for ON/OFF control
DC control output for connecting sensors
Maximum adjustable output voltage
Dual ON/OFF sensor control
Keyboard lock
The dual-channel working mode allows the choice of frequency monitoring, voltage monitoring or dual frequency voltage monitoring. The output frequency scale covers a range of 5 Hz to 999.9 Hz with an accuracy of 0.1 Hz. The brake function allows the vibratory feeder to be quickly stopped by shifting the current phase by 180° during the soft stop process. The control port supports NPN, PNP or an auto adaptive type. The brightness adjustment function on the LED display supports 32 levels of brightness. The user parameter save and restore feature allows users to set parameters and save them to a user group for easy restoration.
Variable frequency controller models:
SDVC31-S(1.5 A)
SDVC31-M(3 A)
SDVC31-L(4.5 A)
SDVC31-XL(6 A)
SDVC31-U(10 A)
SDVC-33(3.5 A)