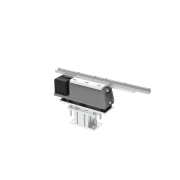 A vibratory linear feeder is positioned downstream of a vibratory bowl feeder. It is used to feed the pre-positioned parts from the bowl feeder into the next automated production process.
A vibratory linear feeder is comprised of an electromagnetic vibration drive and guides. These components allow a vibratory feeder to operate in automatic mode.
Sensors are installed on the guides to stop and release parts as the guides are filled. A quality linear feeder is a critical part of vibratory feed systems.
We only use quality sensors from Balluff, Keyence and Senzoric in the manufacturing of vibratory linear feeders.