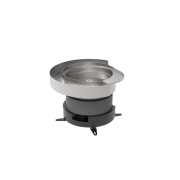 Vibratory bowl feeders are sophisticated devices with precision processing that are commonly used in automated production. Bowl feeders efficiently handle parts of various sizes, weights, and materials.
Thanks to orientation elements located inside or outside the vibratory bowl feeder, the vibratory feeder itself can transport parts reliably, and orient them correctly. Compressed air can be used for even more precise positioning. The feeder hopper is located on a bowl vibrator (drive), which guarantees optimal dosing of parts.
The size, material and surface finish per the individual specifications provided by each client are taken into consideration in the production of vibratory hoppers.
We manufacture the hopper part of the vibratory feeder using 1.4301 and 1.4404 stainless steel. 1.4404 stainless steel is used for applications in the food and pharmaceutical industries. Vibratory bowl feeder hoppers may also be made from EN AW-5754 (AlMg3) class aluminium alloy.